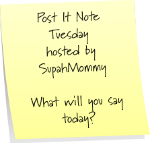 Oooooops, so I am a day late................isn't the saying "better late than never"?...................Just randoms.
Not in any particular order for the sake of random thoughts
I like the idea of hanging out during normal business hours with people I don't know crap about (you know the ones I work with daily)
I particularly enjoy knowing that I only have to "work" a half day on party day. Since they are not having a party, I vote they give us the whole day off.
I found that Parchment paper is the magic ingredient to baking cookies that don't turn out black on the bottom and hard as a rock!