Ok, so lets just pretend that I have
post it notes of various colors
on this post today.............please?? I am running late (in circles) but I want to post.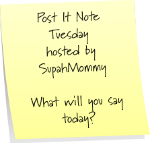 I wish SupahMommy would come over and visit me! :::hint hint:::

gingerbread cookies in the
middle of the night, the only
person you are hurting is
site for absolutely free.
I really hope to utillize
eat better and lose weight
Dear Airport Body Scanners:

I sure hope you realize what
your eyes are going to have
to deal with. Its not all about
perky boobs and stud muffin
bums. You are really going to
wish you did not have to see
all of this..............
just saying

Dear Folks at that Place I spend eight hours a day:
Let's start everyday with the genuine desire of working together
in unison towards the common goal of crazy profits
this year. It can be done, let's do it together.
Love
the Bitch at the Front Desk
Hey ME:
I am proud of you for food tracking the
past three days. I know you can lose a
bit of your fat ass. I have faith in you.
You have smaller beauuuuuuuuutiful
clothes waiting to be worn by the new
YOU!!