well, here it is Tuesday (ok well its really Monday, but tomorrow I won't have time soooooooooooooo). That means it is time for Post-It Notes!! Yay!!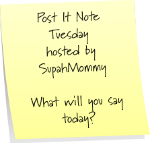 Shannon & Jeffrey's wedding is coming up fast and
I HAVE to work on getting
rid of some of this excess
FLUFFFFFFFFFFFFFFFFFFFFFFFFFFFf
I had an exciting thrift shop adventure but forgot to take meds and I hurt like heck!!!!